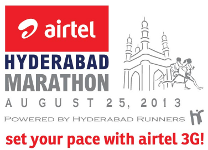 We gathered at dinner and spoke of little else besides the grueling race next day. We expected the weather to be mild and organisation to be good.
It was an early start for the full marathoners. 5am. For Abbas, Vidhi, Mulraj and Dev.
Abbas: A miracle runner, whose feet don't even touch the ground. He seems to fly. He shows us how little is required to run- a strong mind and the will to succeed. He exemplifies the minimalist nature of running. He's ready to help any runner – always with a smile. He has a selfless nature, friendly personality and a big heart.
Salaam Abbas !
At 3.27 he's truly a star. He is Born to Run.
"Every morning in Africa, a gazelle wakes up, it knows it must outrun the fastest lion or it will be killed. Every morning in Africa, a lion wakes up. It knows it must run faster than the slowest gazelle, or it will starve. It doesn't matter whether you're the lion or a gazelle-when the sun comes up, you'd better be running."
~ Christopher McDougall, Born to Run: A Hidden Tribe, Superathletes, and the Greatest Race the World Has Never Seen
Vidhi: Discipline , Dedication and Determination thy name is Vidhita( her real name which I found out much later!) A truly wonderful person who always encourages new runners. It was ironical how she played the Bournvita mom with such panache, losing to a kid!! I have seen her give each workout everything, teaching is how to make every run count.
Hats off Vidhi!
4.04 on a course with 30 km of hills which you dread. This is taking your fear head on and killing it. You're truly an inspiration!!
The brave man is not he who does not feel afraid, but he who conquers that fear.  ~ Nelson Mandela,
Mulraj :aka mulchand : 4.19-One of the most modest runners of the group who has scaled new heights each year with every marathon. A deceptive runner who begins easy and finishes at an astonishing pace with a smile. He is always relaxed- and he was the one to defuse the pre-marathon stress about the hills. His take it easy attitude on Sunday runs magically transforms into a hard steely resolve on race day, as he effortlessly shaves off minutes.
Attitude is a little thing that makes a big difference.  ~Winston Churchill
Dev: He is the answer to the question that the Bangamore Ultramarathon tshirt asks……..It's Tough – are you? A hardworking and accomplished runner- who shows by hos actions that all limitations are in our head…..there are no boundaries to your capabilities. Year after year he goes for 75k…… ! To complete the grueling Hyderabad course with cramps over teh last few km shows true grit and indomitable spirit.
Some men are masters of their fate.  ~Shakespeare, in Julius Caesar
Us , half marathoners started at 6 am, and at 5.15 all of us were warming up in the lobby. As the race started we realised that the course was worse than what we had imagined. It was a series of long gradual undulating slopes and as we went downhill we saw another one coming. The worst was at 14km mark when we turned a sharp left turn only to go up a steep hill! A blind turn , indeed!
Samir Bhatia: The fastest Half Marathoner from our group was unhappy with his 1.55 hour finish! He is an amazing runner with amazing bad luck with injuries! But now he is back with a bang- This great Sub -2 run with a calf pain and an upset stomache……This was only one more run as a part of his Chicago training . He trains hard and is hoping to crack his PB.  He is a wonderful person always ready to advise novices on how to better our time. Here is wishing him all the Best!
"And, when you want something, all the universe conspires in helping you to achieve it."  ~ Paulo Coelho, The Alchemist
Malay did a 2.03 run. Sumin helped Ashima and Hemali for a 2.20 half marathon. I did a 2.09- I am thrilled 🙂 
This is a story to celebrate the accomplished runners, who took on a knowingly tenacious course, and showing us that it was possible. This is a story of The Hyderabad Heroes……thank you samir for a very apt title.
Comments
comments